Happy Friday. It's another end of the work-week and I am thrilleeeddddd…
HI NEW FRIENDS! Welcome!
WHAT DO YOU THINK OF MY NEW LOOK???
I just got a blog-makeover! I personally L-O-V-E it and it feels soo good! I owe it all to my blog friend, Kelsey.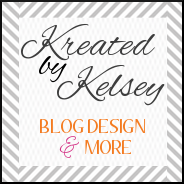 Kreated by Kelsey is INCREDIBLE! She is a student, works, AND, designs blogs. Her style is perfect for what I was looking for (plus she was one of my sweet followers). She is SO easy to work with/communicate with and fast.
GUESS WHAT???
You, too, my friends could have an amazing "new look" to your blog!! She is running a special for my readers:
$5-$7 off!!!
You will NOT want to miss this opportunity. Head on over to her sweet blog and check out her portfolio… check out how sweet this lady is. Go. Now. Here.
This weekend Josh and I are visiting my friend, Heidi & her fiancé in Iowa. We can't wait!! We are leaving EARLY Saturday morning and we are JOSH is driving us to Iowa. I am taking their engagement pictures and I am sooo looking forward to it!! I will for sure post a photo re-cap!
Enjoy your weekends! Breathe this spring air and remember to SPRING AHEAD?!